I have always been excited to learn about women who were first at something, and Elizabeth Timothy wins in that category in South Carolina.

When her publisher husband died in 1738, Elizabeth Timothy became the first female newspaper publisher and editor in America.
Elizabeth was born in Holland and immigrated to America in 1731 with her husband and four children. They sailed with other French Huguenots fleeing persecution.
Timothy met Benjamin Franklin, who hired him to be librarian of Franklin's Philadelphia Library Company. Then Franklin trained him in the printing business at the Pennsylvania Gazette.

Franklin had helped establish the "South Carolina Gazette" in Charlestown. When the publisher died, Timothy took his place in 1733. They signed a six year contract with Timothy's son Peter as the next in line as publisher. "The Gazette" became the South Carolina's first permanent newspaper under Timothy.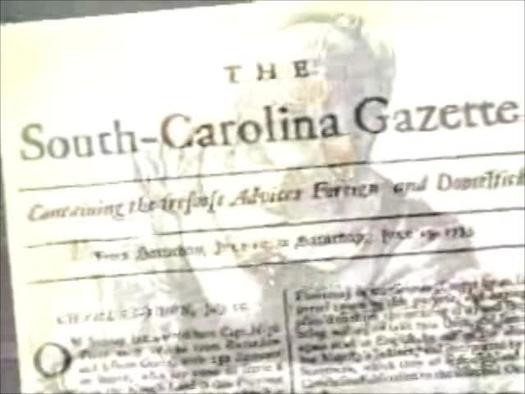 The family joined St. Philip's Anglican Church and became quite active. Timothy organized a subscription postal system that originated in his printing office. In 1736, he obtained 600 acres and a town lot.
Timothy Print Shop
Lewis died in 1739, and Elizabeth took over. She was the mother of five children and momentarily expecting the sixth, but she took on another job. She ran the Gazette under the name of her 13-year-old son Peter. There was a year left on the contract, but not an issue was missed.
Likeness of printing presses in the 18th century.
Elizabeth added a personal touch to the Gazette by adding woodcuts for illustration and advertisements. In the first issue after her husband's death, she included a sentimental message asking for continued support from their customers.
Besides the Gazette, she printed books, pamphlets, tracts, and other publications. Franklin said that she was superior to her husband in her accounts; she "continu'd to account with the greatesr Regularity and Exactitude every Quarter afterwards; and manag'd the Business with such Success that she not only brought up reputably a Family of Children, but at the Expiration of the Term was able to purchase of me the Printing House and establish her Son in it."
When her son Peter turned 21 in 1746, he assumed the operation of the Gazette from his mother. She turned right around and opened her own business, a book and stationery store next door to the printing office on King Street. Of course, she advertised in the Gazette. (I wonder if she had to pay?) In an ad in October, 1746, she announced that she had books available like pocket Bibles, spellers, primers, and books titled Reflections on Courtship and Marriage, Armstrong's Poem on Health, The Westminister Confession of Faith, and Watt's Psalms and Hymns. She also sold bills of lading mortgages, bills of sale, writs, ink powder, and quills for reasonable prices.
Elizabeth ran her business for about a year before she left Charlestown for a season. She was back by 1756. She died in 1757, and her estate included three houses, a tract of land, and eight slaves. She was a wealthy woman.
As the mother of six children and the wife of a wealthy and influential publisher, Elizabeth Timothy enjoyed a social position attained by only a few women printers of the colonial period. But her success of the newspaper and printing business after Lewis Timothy's death can only be attributed to her own business acumen and management skills.
As the first woman in America to own and publish a newspaper, she played a vital role in the development of Charlestown and South Carolina. As official printer to the colony, she was closely associated with the South Carolina Assembly and colony's government. And as the proprietor of a commercial printing business and bookstore, she printed, published, and offered for sale numerous books and pamphlets, and was at the center of the colony's cultural and literary life.

In 1973, Elizabeth Timothy was inducted into the South Carolina Press Association Hall of fame. She was inducted into the South Carolina Business Hall of Fame in 2000.
Mark Twain once said, "Twenty years from now you will be more disappointed by the things that you didn't do than by the ones you did do. So throw off the bowlines. Sail away from the safe harbor. Catch the trade winds in your sails. Explore. Dream. Discover."
Elizabeth Timothy was a South Carolina woman who didn't need these encouraging words. In reading about her life, I believe she had some similar words as her motto.
Silkwood sampler created by Elizabeth Timothy in 1735.