Construction for Buffalo Mill began in 1900, and the two seven-story towers were completed in 1901. The engineering firm of W. O Smith Whaley was the designer. The Romanesque Revival detailing was popular during this time. The typical industrial design included arches and brick work.
This large complex of buildings included the main mill,  mill office, power house, ice factory, company store, warehouse, and company bank/drug store. Besides operative and supervisor houses in the mill village, a baseball park and school were built.
Power House
Clock Tower
Ice Factory
The stain glass dome, Terrazzo floor, and marble fountain were a touch of elegance to the office building.
Thomas Cary Duncan founded Union and Buffalo mills. He was known as Union's pioneer capitalist and industrialist. He connected Union and Buffalo mills with his own railroad. Hundreds of families moved to Union from North Carolina and Tennessee and spent their lives working in these cotton mills. This investment introduced the textile industry to this land that once was hunting grounds for the Cherokee.
T. C. Duncan inherited Keenan Plantation from his grandparents, which he renamed Merridun. Remodeling this family property became important. Adding to the piazza resulted in 2400 square feet of porch space. He refurbished the 7900 square feet Georgian floor plan which included a stunning curved staircase, large foyers on both floors, a music room, parlor, library, dining room, kitchen, 7 bedrooms, multiple bathrooms, and a third story cupola. Frescoed ceilings in the music room and dining room, mosaic tiles and turn of the century stenciling and faux graining in the main foyer, and beautiful chandeliers enhanced the mansion's beauty.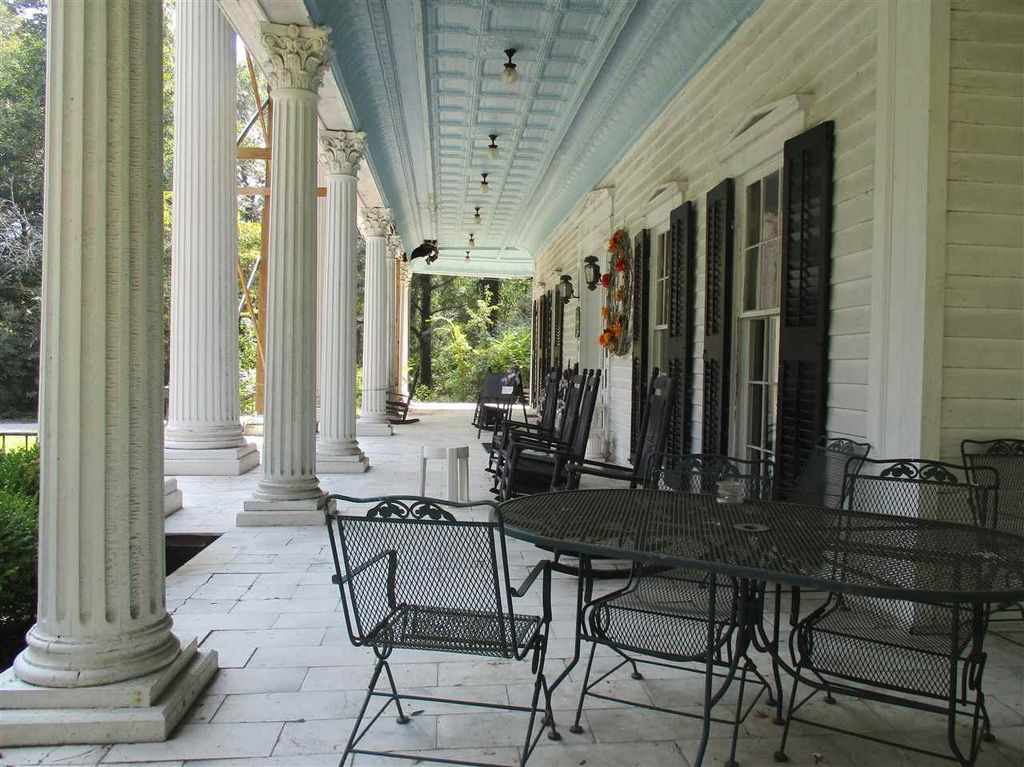 Perhaps you are wondering why I have shared this information with you today, and it really is back-to-the-past.
My husband John grew up in Union, South Carolina. His father, mother, as well as extended family members, worked in the Union and Buffalo cotton mills. This May, 2017, you will be able to read about their lives in my new book, Tales of a Cosmic Possum.
And on my fiftieth birthday, John treated me to dinner at the Inn at the Merridun with some of our friends. What a fun time it was! The house was lovely, as you can see by the above photos.
Below is one of the best chocolate muffin recipes I have ever tasted, and the owner of the Inn shared it with me. Since Valentine's Day is in just a few days, I thought to share it with you. I believe you will like/love it. As you know, chocolate is my favorite. Enjoy!
Double Chocolate Banana Muffins
Makes 24 regular muffins or about 7-8 dozen mini muffins
I had the privilege of having this recipe included in an innkeepers' cookbook – Chocolate for Breakfast and Tea. As much as I love chocolate, I'm not always fond of chocolate muffins or breads—this is one exception. They are rich and moist, and our guests gobble them up.
½ cup butter, softened
1-1/3 cups sugar
2 eggs
1-1/3 cups sour cream
2 teaspoons vanilla
2 cups flour
¼ cup cocoa
1 teaspoon baking powder
1 teaspoon baking soda
Pinch of salt
2 ripe bananas, mashed
1 cup semisweet chocolate chips
1/2 cup coarsely chopped walnuts
Preheat oven to 350 F. Grease or line muffin pans.
In a large bowl, mix butter, sugar, eggs, sour cream and vanilla. Add flour, cocoa, baking powder, baking soda and salt all at once. Mix just until ingredients are blended. Stir in mashed banana, chocolate chips and walnuts.
Fill muffin cups 2/3 to ¾ full. Bake for 18-20 minutes or until a toothpick comes out clean—be careful not to hit a melted chocolate chip! Cool for 5 minutes; then remove muffins from tins, and place them on a rack to cool. Serve warm or at room temperature.