Christmas memories seemed to be flooding my heart and mind today.
One of them is about the packages Lulu/Daddy's mother used to send us from Mirror Lake Farm in Shelbyville, Kentucky. Lulu was quite the cook, and she sent two of her backed goods to Daddy.
She made salt rising bread. She wrapped it in cheesecloth or a worn dish towel. Then she placed it in a box, wrapped it in brown paper, and tied it with string. She usually used old shoe boxes for the mailing. Buttered, toasted in the oven, and smeared with Mother's homemade preserves, it was delicious.
Slicing thin slices, it would usually last two meals for the four of us.
Enjoyed by Appalachia families, this dense, white bread uses a starter with no yeast. The distinctive smell (a little stinky) is not a pleasant one, but the taste is golden. Some say the smell is "cheesy." Tracing its history, this recipe appears to be totally American, becoming popular during the nineteenth century.
The origins of the name are also unclear. One explanation is that pioneer women who crossed the country kept their starter dough warm in the salt barrel, kept atop the wagon wheel. By day the sun would warm the salt, which would warm the starter. The bread could be made in the evening.
Of course, when we visited the farm, there was always a loaf or two in her bread box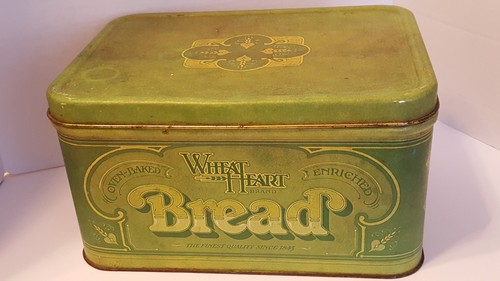 https://www.kingarthurflour.com/recipes/salt-rising-bread-recipe can give you the recipe.
Another of Lulu's specialties that Daddy received before Christmas was fruit cake. Loaded with dried fruit and soaked in Bourbon, it was also fragrant. I can't tell you much about the taste, because fruit cake is not my favorite. The many raisins turned, and still turn, me away from this holiday favorite.
But these baked gifts were a taste of home, and there was plenty of excitement when they arrived.
Just as Lulu's packages arrived in brown paper, Daddy also would string his packages for mailing. String, scissors, tape, and brown paper were required.
He would clear the kitchen table, pack the boxes, and start wrapping. The process was much like wrapping a package for mailing today, except for the string. To begin with, string was tied, knotted, and clipped short horizontally around the box, and then vertically. Critt and I held our small fingers on the loops for Daddy to knot them. He always tied the package with two more strings to be sure it wouldn't open in transit. Then assorted labels were added to help the mailman: Fragile Handle with Care, Do Not Bend, Do Not Crush, Handle with Care, This Side Up. Since these labels were red, they were like decorations on that brown paper.
Soon there was a stack of brown paper packages on the kitchen table. As with everything he did, Daddy was meticulous. The string had to be straight and was usually adjusted several times. Celebrating a completed job that showed how much he cared for his mother, a cup of coffee was always next.
Oh, how I wish I could help him with wrapping some presents today. So thankful for the memories and the way I was taught by example to do even the little things to the best of my ability.  Looking back, I realize he tied up those packages with love, not string. Thank you, Daddy!
Merry Christmas…