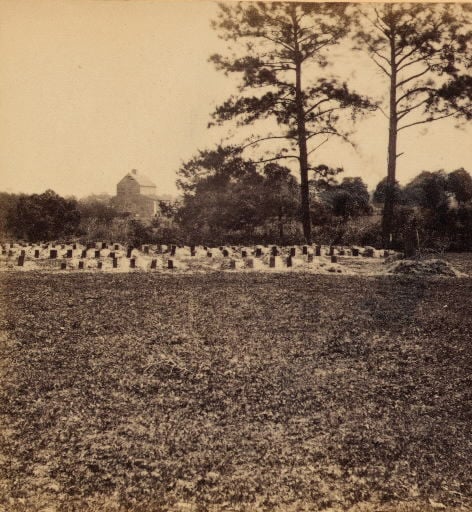 This above April, 1865, photo shows the graves of Union soldiers who died at the Race Course prison camp in Charleston, which would later become Hampton Park.
On May 1, 1865, some 10,000 black Charleston residents, white missionaries, teachers, schoolchildren, and Union troops marched around the Planters' Race Course, singing and carrying armfuls of roses. Gathering in the graveyard, the crowd watched five black preachers recite scripture and a children's choir sing spirituals and "The Star-Spangled Banner."
On that day, former Charleston slaves started a tradition that would come to be known as Memorial Day.
The Charleston Daily Courier published an article about the event entitled "Martyrs of the Race Course." It reported that the day-long service began with the reading of a Psalm. The crowd sang a hymn, then prayed. Everyone in the procession carried a bouquet of flowers.
Rightly named, it was called Decoration Day. These graves were moved to Beaufort National Cemetery in the 1880s and remain there today.
General John A. Logan, a veteran, proclaimed May 30, 1868, Decoration Day, which was "designated for the purpose of strewing with flowers or otherwise decorating the graves of comrades who died in defense of their country during the late rebellion, whose bodies now lie in almost every city, village and hamlet churchyard in the land." After a speech at Arlington National Cemetery, 5,000 Americans adorned the graves of the more than 20,000 Union and Confederate soldiers entombed at the cemetery.
For more than 50 years, the holiday was used to commemorate those killed just in the Civil War, not in any other American conflict. It wasn't until America's entry into World War I that the tradition was expanded to include those killed in all wars, and Memorial Day was not officially recognized nationwide until the 1970s, with America deeply embroiled in the Vietnam War. It became a national holiday.
Those who have chosen to fight for America have been purposeful in this decision. Before Nathan Hale was executed during the Revolutionary War, he said, "I only regret that I have but one life to lose for my country."
The long-cherished Memorial Day tradition of wearing red poppies got its start in 1915. While reading Ladies' Home Journal, a war secretary named Moina Michael came across the famous World War I poem "In Flanders Fields" by John McCrae, which begins, "In Flanders fields the poppies blow/ Between the crosses, row on row."
Moved, she vowed always to wear a silk poppy in honor of the American soldiers who gave up their lives for their country. She started selling them to friends and co-workers and campaigned for the red flowers to become an official memorial emblem.
The American Legion embraced the symbol in 1921 and continue to give them away today.
Growing up, I remember my dad always stopping to make a donation to the American Legion and receiving a poppy for my brother and me. Honestly, those paper flowers meant little to me then, as I didn't know the significance. But I do remember the pride in his voice as he presented us with them.
Despite the increasing celebration of the holiday as a summer rite of passage, there are some formal rituals still on the books: the American flag should be hung at half-staff until noon on Memorial Day, then raised to the top of the staff. And since 2000, when the U.S. Congress passed legislation, all Americans are encouraged to pause for a National Moment of Remembrance at 3 p.m. local time. The federal government has also used the holiday to honor non-veterans—the Lincoln Memorial was dedicated on Memorial Day 1922.
General Norman Schwarzkopf gave tribute to our soldiers. "It doesn't take a hero to order men into battle. It takes a hero to be one of those men who goes into battle."
As General George Patton said, "It is foolish and wrong to mourn the men who died. Rather we should thank God that they lived."
It is no wonder that when we say, "Thank you for your service" to our veterans that we can see a myriad of memories flood their minds.
Military doctor, Major John McCrae, was seen writing this poem while sitting on the rear step of an ambulance on the day after burying his friend, Lieutenant Alexis Helmer. Among the graves were vivid red poppies spring up in the burial ground.
In Flanders fields the poppies blow
Between the crosses, row on row,
That mark our place; and in the sky
The larks, still bravely singing, fly
Scarce heard amid the guns below.
We are the Dead. Short days ago
We lived, felt dawn, saw sunset glow,
Loved and were loved, and now we lie
In Flanders fields.
Take up our quarrel with the foe:
To you from failing hands we throw
The torch; be yours to hold it high.
If ye break faith with us who die
We shall not sleep, though poppies grow
In Flanders fields.
Let's not forget that "Each of the patriots whom we remember on this day was first a beloved son or daughter, a brother or sister, or a spouse, friend, and neighbor." President George H. W. Bush