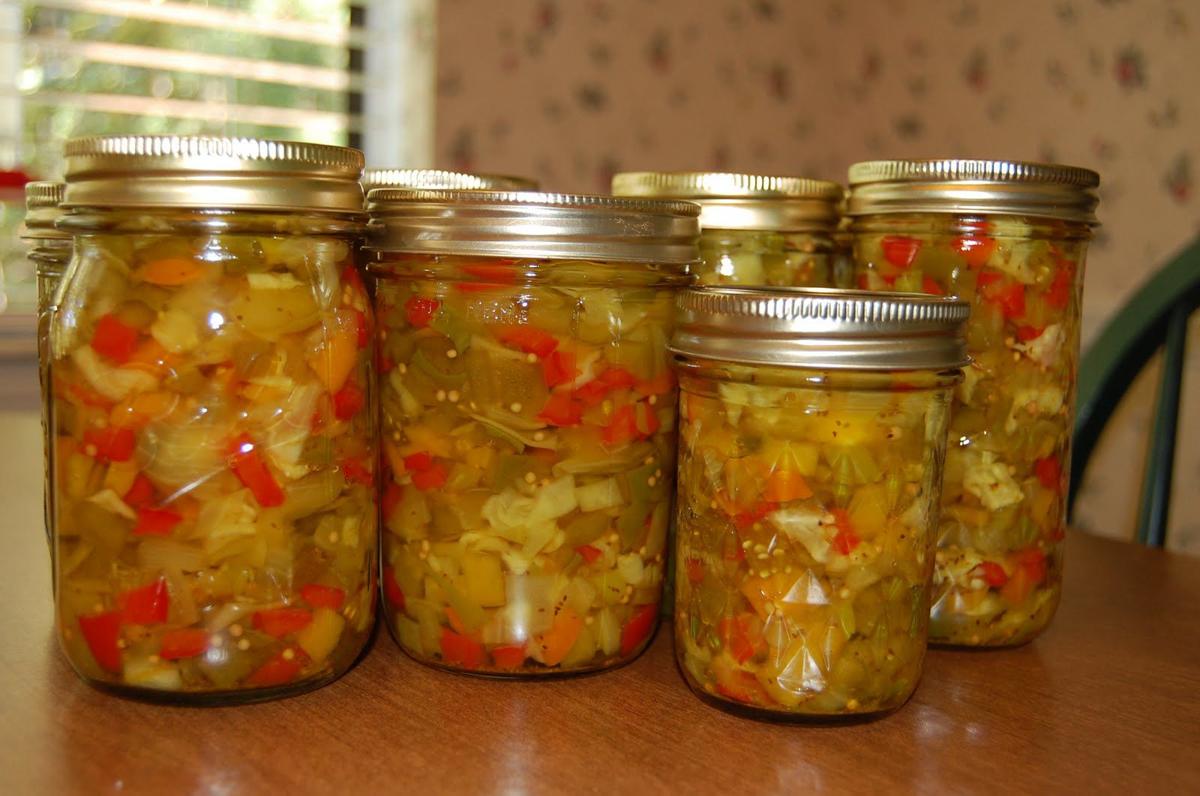 My granny/great grandmother/Minnie Earlene Justus made chow chow. She used what was in her garden in Hendersonville, North Carolina. Whether she was at the Rock House, the boarding house, or her little two-bedroom cottage on Kanuga Road, she always planted a garden. Along with her melt-in-your-mouth biscuits, there was always a pint jar of chow chow on the table.
I learned early that I did not like what was in that jar or in her glass dish served with all that wonderful food. In later years, I noticed my dad didn't care for it either. This didn't keep my mom from having it available in the frig; she enjoyed it with beans and pork. She even put it on hot dogs sometimes.
Chow chow is popular in parts of the American South, Pennsylvania, New Mexico, and Appalachia. It's made by combining a whole lot of different vegetables (usually with a cabbage and/or green tomato base) with vinegar to quickly pickle the vegies.
It is one of those end of the season recipes that utilizes things that are quickly fading from the backyard garden. It's a way to use those tomatoes that are still on the vine, but will never turn ripe before the first frost gets them. So this is usually made in the fall. That goes for the other vegetables that are included in it. Some folks use cucumbers, some use cauliflower, some use pretty much just cabbage. If you start looking for recipes, you'll find lots of variations.
Of course, if there is an abundance during the growing season, it makes sense to make a batch then.
And before you get confused about this word, this is not that cute dog that I am writing about this morning.
Have you ever eaten chow chow? If you live in the South, you might have. It is part slaw, part pickled relish, and part side dish. The mixture is served cold, and some variations also kick it up with condiments like ketchup and mustard. It's tangy, sweet, a little spicy, crunchy, and it pairs well with just about any savory food.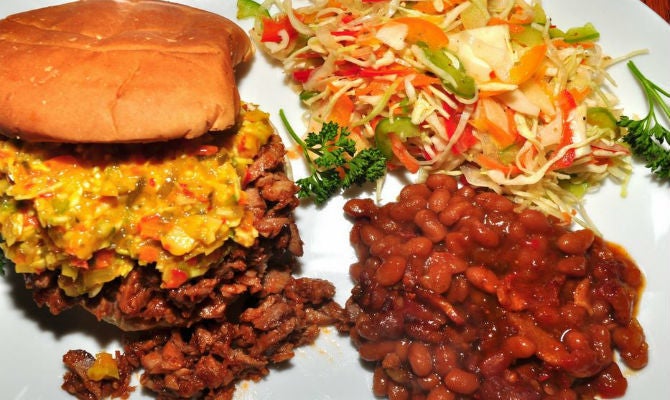 John's mother used to make it, but none of her sons liked it either. Wonder if it is a generational, as well as regional food?
As to the origins of chow chow, the late Southern food historian John Egerton believed the origins of chow-chow began in the sauces brought over by Chinese railroad workers in the 19th century. The Food Lover's Companion links it to a ginger-and-orange-peel condiment of that same Chinese origin, but it  bears little resemblance to what we call chow-chow today. Others say that the name originated in the French language, where the word cabbage is chou. As it became popular, family recipes over a century were handed down from grandparents. (This makes sense as to how it came into our home.)
The Amish  – especially of Lancaster County – have become well known for their chow chows. Chow chow has established itself as a favorite "end of garden" relish for many Amish cooks. They include string beans, celery, corn, kidney beans, and carrots. Perhaps, theirs is another way to consume leftovers.
The process of making it is easy. Chop and combine cabbage, corn, onion, green tomato, hot pepper, garlic, mustard seeds, coriander, and celery. Toss with vinegar and honey. Boil water, add vinegar, and pickling spices in a large pot. Add sugar for sweetening. Bring it to a boil for about five minutes until tender. Cool it off and put it in the fridge. There are many versions available on the Internet for you to personally check out.
Preserving family recipes, as well as stories, is important to me, as you know. I guess the chow chow delicacy stops with John and me. And, I love pulling out those old recipes, written by their hands, to cook and share with my family and friends. Giving those women credit puts a smile on my face.
I agree with one of my favorite authors. "I hold that a strongly marked personality can influence descendants for generations,"  said Beatrix Potter.
If you are interested in buying chow chow, Bellew's Market in Spartanburg and the Hendersonville Farmer's Market still sell it.
When I think about my mountain, Appalachian roots, I see strength in Granny and on up her family line. They made do with little and stretched everything feasible to feed their families. Chow chow seems to be another sign of that by using the left-overs from the garden. Their hands were hardened with work, as well as rearing children. They fought hard for their families. Survival was based on know-how, and I guess that also includes knowing how to make chow chow.
This post has not been what I thought it would be today. I really thought I was going to share information about an old recipe that I didn't particularly care for. What happened is another realization about the heritage the women in my family tree have passed on to me.
As C. S. Lewis wrote, "Experience: that most brutal of teachers. But you learn, my God do you learn."