Shops owned and operated by women were popular during the Colonial years in Charles Town. Sometimes she inherited the business from her husband; other times she took the initiative herself to start her own. They found a niche in retail, especially in millinery and dressmaking.
Milliners would make, among other items,
shirts
shifts
aprons
neckerchiefs
caps
cloaks
hoods
hats
muffs
ruffles
Imported goods from the other colonies and England, as well as those crafted on site, were advertised in the South Carolina Gazette. Between 1760-1775, 36 different women advertised the wares in their stores. Jewelry, hosiery, shoes, fabrics, caps, and clocks were brought in by merchant ships. Pins, needles, and thread were available for mending or sewing at home.

Styles changed in England, and the Carolina women wanted to stay in style. Milliners depended on English newspapers and magazines to know the latest changes. During the 18th century, skirt styles changed five times, and over the course of two years, hat styles changed over seventeen times.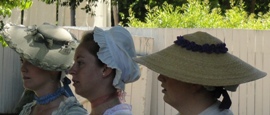 Women in colonial times grew their hair long,  but they seldom let it hang loose. They would pull it back and hide it under a cap or hat. To protect their skin from the sun, they always wore hats outside. The hats were made of cloth, straw, silk, or felt and were decorated with ribbons, flowers, or feathers.
Starting at age six to eight, girls started dressing like their mothers, and boys like their fathers.
A milliner often made adjustments in their shops for the men.
To encourage patrons to come in, attractive displays were changed on a regular basis. Paper patterns hung in the front window, and straw hats lined the counters. Colorful rolls of silk, wool, and cotton were displayed on the shelves.
"What do you buy?" was the common greeting from Agnes Lind, as with all shop keepers,  when a customer entered a shop.
In the early 1760's, Agnes Lind owned and operated a millinery shop on Tradd Street in Charles Town Her husband Thomas was a factor in the city.
Her friendly smile welcomed everyone. Bonnets and various bags of all sizes and colors were carefully assembled in another display. Fans, muffs, handkerchiefs, and gloves were also available.
Her ribbons and laces caught the eyes of the children, as well as the women, and she even carried simply-dressed dolls for sale. A Wax Baby imported from England would have been a prize.
In October 1766, Agnes Lind died, and within two weeks, Thomas Lind, eager to continue his wife's successful business, announced that he had "engaged Miss Katherine Smith to carry on the Millinery Business at the shop on Tradd Street, as usual."  Katherine Smith must have proved a fine replacement for Agnes Lind because within two months of Agnes's death, Thomas Lind married Katherine Smith. And the shoppe on Tradd Street continued.
Carl Bridenbaugh, using travelers' accounts as a major source, commented on the pale complexion of the women of South Carolina. Yet Bridenbaugh wrote that "the glory of Carolina was its women." Perhaps this was a reflection on the clothes they bought from either Agnes or Katherine Lind.
Don't you wish we could visit their shop today?