Mary Vardrine McBee was the daughter of Silas and Mary Estelle McBee. Her father was a well-known layman of the Episcopal Church and the editor of "The Churchman." He was elected Clerk of Court 3 times and invested in cotton mills and railroads.
Mary was named for her mother and grandfather Vardry Alexander McBee.
Her great grandfather was Vardry McBee, one of the founders of Greenville. In addition to a brickyard, quarry, and corn, grist and saw mills, McBee established a tannery to produce the leather needed for saddles and shoes. He also set up a Main Street store that sold saddles, bridles, harnesses and other leather goods, probably including boots and shoes.
When her mother died, Mary, her older sister Estelle, and younger brother Silas went to live with their aunt in Philadelphia. Her father married again, and the children returned to NC.
Mary's boarding school was Fairmont School for Young Ladies in Monteagle, Tennessee. Since this college was not certified, Mary had to pass college entrance exams before being accepted to Smith College in Northhampton, Massachusetts.
According to her niece, Mary had been out of school for four years when she made application to take the college entrance examinations. For three long days, she wrote away and passed all except two exams.
In order to be admitted, she had to make up one of these two. Immediately, she sat down and took the algebra examination. She passed!
And so it was that on a cold, rainy Fall day in 1902, a joyful sub-Freshman, who had just passed her algebra entrance examination, picked up her heavy long skirts and hurried behind Dr. Brady, the Latin Professor, across the campus toward the administration building.
She fixed her eyes on Dr. Brady's old-fashion high boots and saw water fly out in every direction with each step he took. It was in this atmosphere created by the sight of the stern old gentleman wading through the water that the idea, the dream of Ashley Hall was born.
Miss McBee was then, still, a very young lady, but despite this, she had the determination and strength of purpose to last her through four years of college until her dream was completed.
Mary then matriculated and graduated from Columbia University with a masters in history and education. But the dream of establishing a girls school in the South never left her. Speaking in Greenville to a Kiwanis Club in 1943, she said," I went through college with this idea, and everything was connected to it."
During the year of 1909, she went to Charleston with her idea of starting that school for young ladies. From her own experience, she realized that the South lacked a school which gave the necessary college requirements to Southern girls, and so, on a day in late September, in the year 1909, Ashley Hall began.
The Patrick Duncan House on Rutledge Avenue, owned by the C.O. Witte estate, was for sale, and Mary thought it very suitable, but its asking price was far higher than the $16,000 she could put together at the time.
McBee was pleasantly surprised when Charles Sloan, a neighbor of the Guerry's and son-in-law to the late Mr. Witte, personally requested that she submit a bid for the house. The Witte family favored it becoming a girls' school, since Mr. Witte had raised six daughters of his own and had thought the property a fit setting for just such an enterprise.
Eventually a deal was struck for $25,000 and Mary had her schoolhouse in downtown Charleston. After some consideration, she chose to name the new school Ashley Hall for the river that coursed to the west and because she felt the house was grand enough to be called a "hall." She was 29.
Vardrine immediately faced four primary challenges: developing a comprehensive curriculum; employing faculty and staff; fitting out the Witte property for classes and boarders; and recruiting students.
The all-girls school was Mary's brainchild, and Ashley Hall made her a pioneer in education. Her established motto for the school is Possunt Quae Volunt, or "Girls who have the will have the ability."
Ashley Hall was the result of Mary's will and ability. She passed it on to her students.
On October 4, 1909, the school opened. There were 14 boarders and 31 day students. The first enrolled day student was Josephine Pinckney, and the first enrolled boarder was Pauline Sanders.
These girls, this class of forty-five students, became the first members of a school which has grown and improved to become one of the outstanding college preparatory schools in the country.
The first year there were no graduates. But in 1911 three girls: Lucille Lebby, Katherine Paul, and Ethel Thrower, were the first graduates. Then in 1912, an industrious young student, Mary Howden, took the college entrance examinations, passed, and gained for Ashley Hall the prominence it needed to become a certified school. And so three years after its beginning Ashley Hall was well on its way to success.
Teachers were carefully chosen, and Mary herself taught the history classes. As one student remarked, "the teachers were an impressive group of intelligent, thoughtful, and well-educated ladies and gentlemen."
More buildings had to be bought and renovated, as the student population grew.
For forty years, until her retirement, Mary McBee led by example. She envisioned a place of learning that would produce educated women who are independent, ethically responsible, and prepared to meet the challenges of society with confidence. And for 111 years this month, Ashley Hall has succeeded.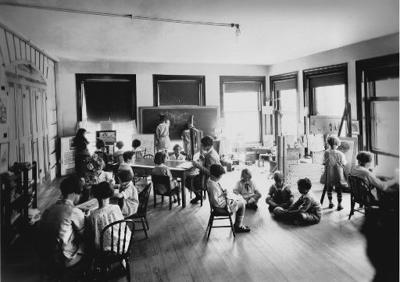 Outside of her roles as founder and head of Ashley Hall, Mary Vardrine McBee was an energetic community leader and social activist. She was instrumental in the creation and support of many valued organizations in the Charleston area. It was once said of her that "there was practically no cultural or civic movement in which she was not a part."
Her many accomplishments would constitute an enviable resumé for anyone: that she was a single woman, barely past the turn of the century in an iconic southern city, placed her in the vanguard of women leadership across the nation.
Established the Charleston Symphony Orchestra in 1919
Served on the Board of Directors for the Girl Scouts of Charleston
First woman commissioner to serve on the Charleston County School Board
Helped organize Charleston's first free Kindergarten program for underprivileged children
Founder of The Carolina Art Association and the Charleston Free Library
Served as vice president of the SC Suffrage Movement and was part of the League of Women Voters
Ashley Hall's constellation of alumnae extends from confident and intelligent young women to a host of leaders in technology, business, publishing, politics, law and medicine. Among them are authors Madeleine L'Engle and Josephine Humphreys, first lady Barbara Bush and philanthropist Martha Rivers Ingram.
The hallmarks of its graduates are compassionate, intelligent, worldly, creative, collaborative, purposeful, and discerning.
With these qualities within themselves, their community, and the entire world, Ashley Hall girls know who they are and fearlessly pursue their dreams wholeheartedly.
This year the student body comprises 756 students from age 2-18. There are 73 teachers with a student/teacher ratio of 10/1. Twelve sports are offered and 14 AP courses. Music, art, and drama are required.
A full decade before she could vote herself, Mary McBee looked ahead and founded, not only a girls' school, but also a legacy of education that continues today. 111 years later her dream is still alive and well.
Though the word suffragette usually applies to women working for the right to vote, Mary pushed the glass ceiling further by establishing a school to raise the whole world of women raised in the South, especially SC.
Mary Vardrine McBee was in the vanguard of women's leadership in the 20th century, both in SC and across our nation.
Arcadia Publishing offers the book, "Ashley Hall," by Illeana Strauch. It is full of photos and more information about Mary's legacy.
Speaking before a Kiwanis Luncheon at the Francis Marion Hotel in 1943, McBee told the audience, "Ashley Hall began on the day I was admitted to Smith College. The school I attended – although a good one – did not have certification privileges and the courses were not laid out to make college entrance easy. After I was accepted and registered at Smith, I went to send a telegram to my father and along the way I decided I would one day return to the South and establish a school that would give the same privileges to Southern girls as Northern girls had. I went through college with this idea," she said, "and everything was connected to it."
Her dream became a reality in Charleston, South Carolina. Thank you, Miss McBee!