President Calvin Coolidge spoke of the US Flag with these words. "We Identify the flag with almost everything we hold dear on earth, peace, security, liberty, our family, our friends, our home…But when we look at our flag and behold it emblazoned with all our rights we remember that it is equally a symbol of our duties. Every glory that we associate with it is the result of duty done. "
What we know fondly as the "Stars and Stripes" was adopted by the Continental Congress as the official American flag on June 14, 1777, in the midst of the Revolutionary War. Colonial troops fought under many different flags with various symbols—rattlesnakes, pine trees, and eagles—and slogans—"Don't Tread on Me," "Liberty or Death," and "Conquer or Die," to name a few.
On June 14, 1777, the Second Continental Congress took a break from writing the Articles of Confederation, and a flag was the fifth item on the agenda that day.
Resolved, that the flag of the thirteen United States shall be thirteen stripes, alternate red and white; that the Union be thirteen stars, white on a blue field, representing a new constellation.
The Continental Congress left no record as to why it chose these colors. However, in 1782, the Congress of the Articles of Confederation chose the colors for the Great Seal of the United States with these meanings:
white for purity and innocence
red for valor and hardiness
blue for vigilance, perseverance, and justice
These children, dressed in different shades of clothing, posed to represent the U.S. flag, becoming a "Living flag" in 1911
One of the first celebrations of our flag was in Hartford, Conn. during the summer of 1861. In the late 1800s, schools all over the United States held Flag Day programs to contribute to the Americanization of immigrant children, and the observance caught on with individual communities.
In Waubeka, Wisconsin, nineteen year old Bernard J. Cigrand placed a 10" 38-star flag in an inkwell on his desk at the front of his one room classroom.  He prompted his students to write an essay about what the flag meant to them, referring to that day, June 14, as the flag's birthday.
A little over three decades later in 1916, President Woodrow Wilson declared June 14th as National Flag Day.  President Wilson proclaimed, "The Flag has vindicated its right to be honored by all nations of the world and feared by none who do righteousness."  On August 3, 1949, President Truman signed an Act of Congress recognizing the holiday of Flag Day and encouraging Americans to celebrate it.
On June 14, 2004, 108th U.S. Congress unanimously voted on H.R. 662 declaring Flag Day originated in Waubeka, Ozaukee County, Wisconsin.
Inspired by decades of state and local celebrations, Flag Day – the anniversary of the Flag Resolution of 1777 – was officially established by the Proclamation of President Woodrow Wilson on May 30th, 1916. While Flag Day was celebrated in various communities for years after Wilson's proclamation, it was not until August 3rd, 1949, that President Truman signed an Act of Congress designating June 14th of each year as National Flag Day.
Above is the original "Star-Spangled Banner" that inspired Francis Scott Key's poem. It was moved from Fort McHenry in 1874 and displayed at the Boston Navy Yard until 1907, and has been at the Smithsonian Institution ever since.
Flag Day is a day for all Americans to celebrate and show respect for our flag, its designers and makers. Our flag is representative of our independence and our unity as a nation…..one nation, under God, indivisible. Our flag has a proud and glorious history. It was at the lead of every battle fought by Americans. Many people have died protecting it. It even stands proudly on the surface of the moon.
The American Flag is lovingly referred to by other names, including:
Old Glory
Stars and Stripes
The Red, White and Blue
As Americans, we have every right to be proud of our culture, our nation, and our flag. So raise the flag on June 14 and every day with pride!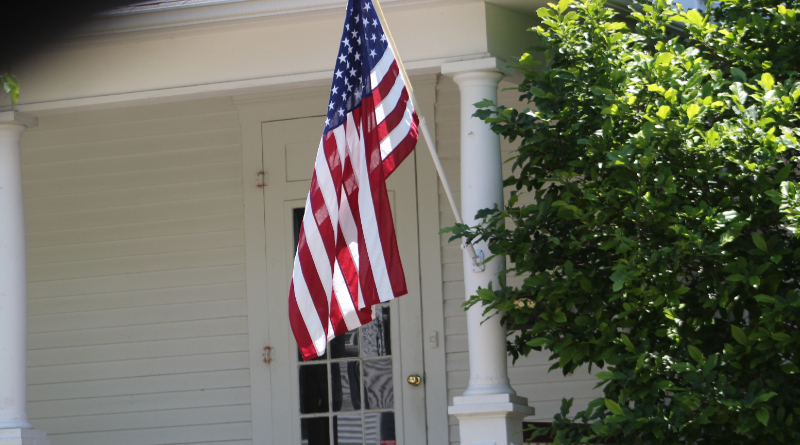 I am the flag of the United States of America.
I fly atop the world's tallest buildings.
I stand watch in America's halls of justice.
I stand side by side with the Maple Leaf on
the worlds' longest undefended border.
I fly majestically over institutions of learning.
I stand guard with power in the world.
Look up and see me.
I stand for peace, honor, truth and justice.
I stand for freedom.
I am confident.
I am arrogant.
I am proud.
When I am flown with my fellow banners,
my head is a little higher,
my colors a little truer.
I bow to no one!
I am recognized all over the world.
I am worshipped — I am saluted.
I am loved — I am revered.
I am respected — and I am feared.
I have fought in every battle of every war
for more then 200 years.
I was flown at Valley Forge, Gettysburg, Shiloh and Appomattox.
I was there at San Juan Hill, the trenches of France,
in the Argonne Forest, Anzio, Rome and the beaches of Normandy.
Guam, Okinawa, Korea and KheSan, Saigon, Vietnam know me,
I was there.
I led my troops, I was dirty, battle worn and tired,
but my soldiers cheered me And I was proud.
I have been burned, torn and trampled on the streets of
countries I have helped set free. It does not hurt,
for I am invincible.
I have been soiled upon, burned, torn and trampled on
the streets of my country. And when it's by those whom
I've served in battle — it hurts.
But I shall overcome — for I am strong.
I have slipped the bonds of Earth and stood watch over
the uncharted frontiers of space from my vantage point on the moon.
I have borne silent witness to all of America's finest hours.
But my finest hours are yet to come.
When I am torn into strips and used as bandages for my wounded
comrades on the battlefield, When I am flown at
half-mast to honor my soldier, Or when I lie in the
trembling arms of a grieving parent at the grave of their
fallen son or daughter, I am proud.
MY NAME IS OLD GLORY. LONG MAY I WAVE.
by Howard Schnauber