(from a 1903 edition of Mother Goose)
Mary had a little lamb,
Its fleece was white as snow;
And everywhere that Mary went
The lamb was sure to go.
It followed her to school one day,
Which was against the rule;
It made the children laugh and play
To see a lamb at school.
And so the teacher turned it out,
But still it lingered near,
And waited patiently about
Till Mary did appear.
Why does the lamb love Mary so?
The eager children cry;
Why, Mary loves the lamb, you know,
The teacher did reply.
The nursery rhyme was first published by the Boston publishing firm Marsh, Capen & Lyon, as a poem by Sarah Josepha Hale on May 24, 1830, and was possibly inspired by an actual incident. The book, Poems for Our Children, was designed for families, Sabbath schools, and infant schools and written to inculcate moral truths and virtuous sentiments.
The author of this children's poem was Sarah Josepha Buell, who was born in Newport, New Hampshire, on October 24, 1788. Home schooled from the textbooks of Dartmouth College, used by her brothers, she became a teacher at 18 in her hometown.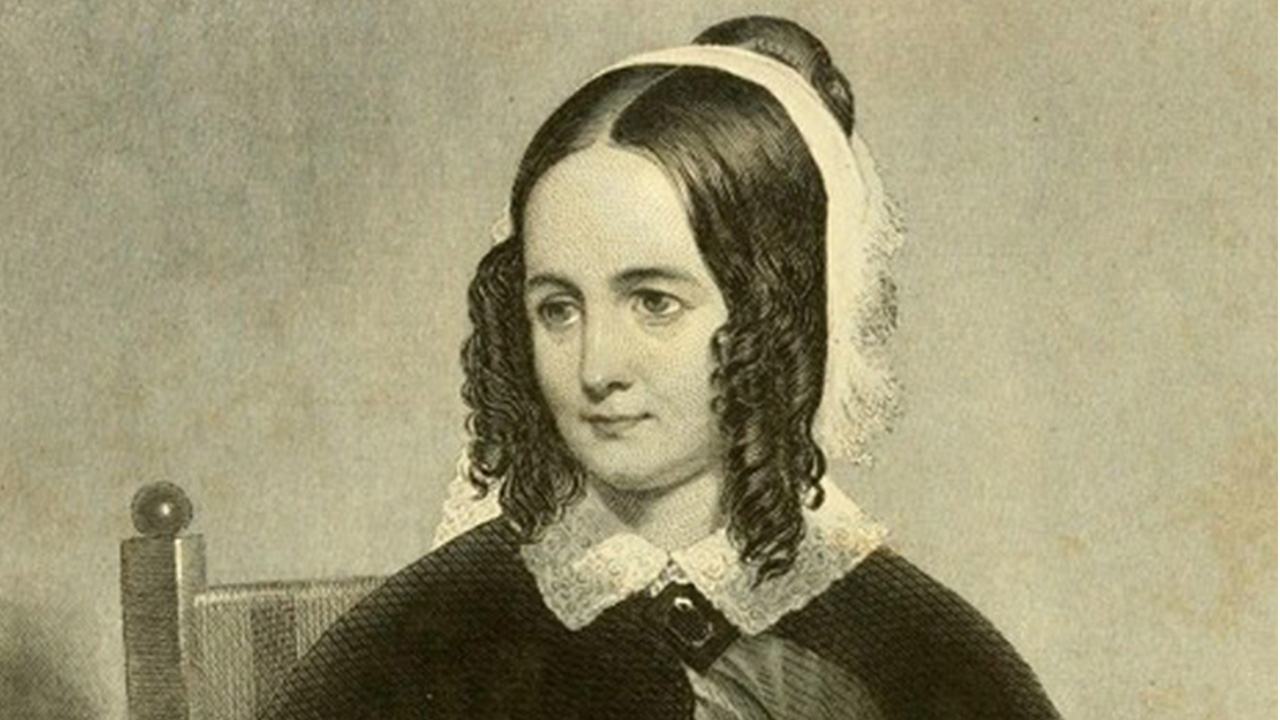 Sarah married lawyer David Hale in 1813, and he encouraged her avid reading and writing. The couple had five children before David died of a stroke in 1822. As a single mother, she worked first as a milliner, a designer and maker of hats, before she started her career as a writer and editor.
In 1828, Hale became editor of Ladies Magazine, which became the popular Godey's Lady's Book in 1837. She worked for this magazine for 40 years and focused on feminine etiquette of the day.
Hale and Publisher Louis Godey steered away from politics, religion, and social issues, focusing instead on women's domestic education from health to home to fashion—the magazine was especially noted for its colored fashion plates. See below.
This publication eventually had a circulation of 150,000. She published the work of Harriet Beecher Stowe, Edgar Allan Poe, Ralph Waldo Emerson, and Nathaniel Hawthorne. She also published unknown women authors who wrote about abolition, temperance, and suffrage.
Hale kept attuned to world news. The American public couldn't get enough information about the increasing royal family, publications such as Godey's Lady's Book, always on the pulse of subjects of interest to women, presented the engraving "Queen Victoria's Treasures" in February 1844, invoking the idea of royal jewels (see below). In the accompanying article, the Queen is observed to "be an example for the women of her own great kingdom, [and] is, therefore, highly important to the world; and we rejoice that she so beautifully exemplifies the best virtues of her sex, in her character as wife and mother." In order to ensure that there were no questions about viewers' gaze being directed towards her maternal characteristics the article concludes, "All the regalia in the Tower of London would not so adorn and beautify Victoria in our eyes, as the jewels of her maternal love, which she displays in this picture."
As an editor, she focused on promotion of causes she also was passionate about: the preservation of Mount Vernon and the establishment of the Bunker Hill Monument in Boston. She advocated for property rights, increased wages for women, as well as expanded educational and career opportunities. She knew first hand what it was like to support a family on her own.
What she wanted was to create a new national holiday—the American Thanksgiving Day. In her quest to accomplish this, she sent detailed petitions to five presidents and devoted numerous column inches to the idea in her magazine. More than any other individual, Hale was responsible for the creation of Thanksgiving as we know it, a country-wide day of rest and feasting at the end of November. She campaigned for a Day of Thanksgiving, conceived as a Christian holiday, focused on prayer rather than food.
In 1860, more than a decade after she first started promoting the idea, Hale declared victory. "We may now consider Thanksgiving a National Holiday," she wrote. So many states had celebrated it so consistently on the same day, that Thanksgiving was no longer "a partial and vacillating commemoration of gratitude to our Heavenly Father, observed in one section or State" but a "great and sanctifying promoter of the national spirit."
Finally, she retired in 1877 at the age of 89 and then died at her Philadelphia home in 1879. This literary pioneer opened the doors for other women authors and editors, as she worked hard at her job for fifty years.
In a Vermont Public Radio commentary, the historian Cyndy Bittinger said of Sarah Josepha Hale, "With Hale as an advocate, women began to study at female seminaries and academies, and many contributed original material to her Godey's Lady's Book...[By publishing] the works of women [and] giving them a platform for their ideas and advocacy…Hale enabled female reformers of the 19th century to influence attitudes…[of both women and men]."
Sarah Hale said, "The burning soul, the bruden'd mind, In books alone companions find."
This nineteenth century, American woman is one to be remembered. Her story is one of unending influence, as she maximized her intelligence and creativity.