A century or so leading up to the Revolution, colonial taverns and inns were an essential part of the community. Horses needed frequent rests, and travel by coach and horseback were far from comfortable. In Massachusetts on the roads leading to Boston, taverns and inns were spaced about every eight miles, which worked out to a reasonable journey in the winter cold before a person needed to warm up, inside and out.
In the cities and some rural areas, taverns were much more plentiful. The difference between a colonial era tavern and an inn is that the inn offered accommodation, the tavern only food and drink. In the earliest days of the colonies, the term was Ordinary, which stuck around longer in the south. By the end of the 17th century, the word tavern was displacing ordinary along the eastern seaboard.
Charleston has long been known for its hospitality. With its beautiful houses and churches, a number of taverns have played important roles in the city's history.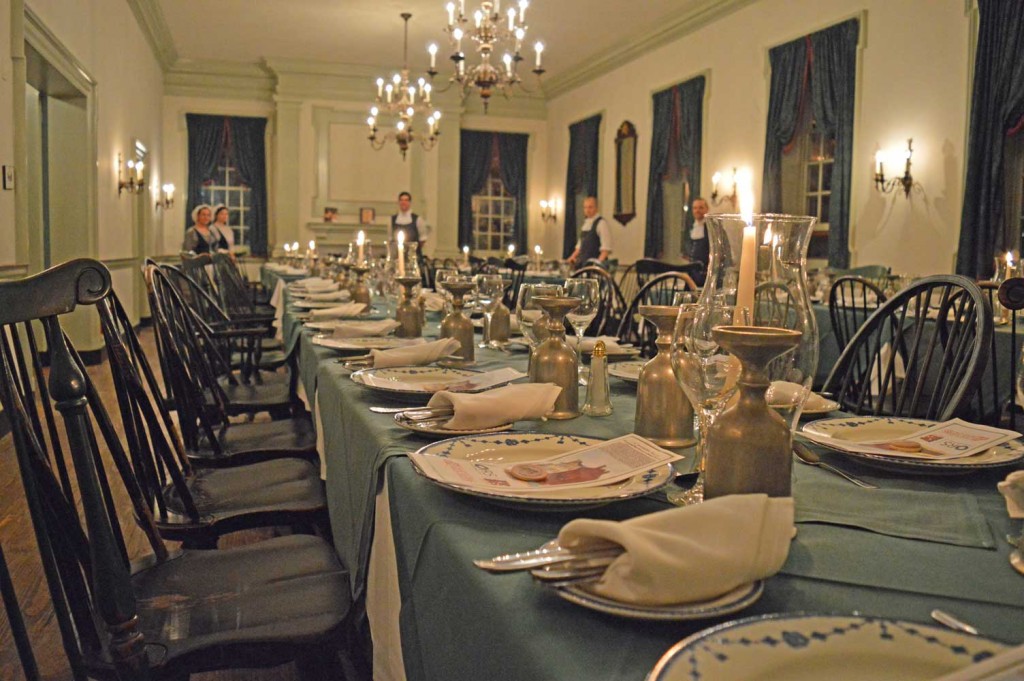 Taverns were the hub of colonial social and civic activity. This public establishment served multiple purposes, not only for eating and drinking, but also for lodging, conducting business, holding public meetings, staging shows and entertainments, and even serving as post offices.
Before a former bank building was designated as City Hall in 1811, all of Charleston's civic meetings and courts were held in local taverns.
Taverns also played an important role in the city's philanthropic life, and Charlestown was a philanthropic town. Here gentlemen of various ethnicities and persuasions met regularly, forming benevolent societies to raise funds as they drank in support of newcomers to the colony as well as fellow countrymen who had fallen on hard times.
It is reported that the Holy City boasted more than 100 taverns during the colonial era, among them Dillon's, Swallows, Gordon's, Sign of the Bacchus, City Tavern, Henry Gignilliat's, and the Georgia Coffee House.
Shepheard's Tavern was established by Charles Shepheard c. 1720 on the corner of Broad and Church streets. The tavern's "long room" served as the city's first courtroom; the powerbrokers met here. The South Carolina Gazzette announced the first theatrical play in America was staged here, as was the nation's first opera, both in 1735. That building burned, but Shepheard immediately rebuilt at the same location using salvaged materials and was accordingly appointed postmaster in 1743. Solomon's Lodge No. 1 of Freemasons met here in 1754, and the tavern was the birthplace of the Scottish Rite Freemasonry in America, 1801. But perhaps one of the most historically significant activites to take place here was that Shepheard's served as the meeting place where Christopher Gadsden sparked the flames of the America Revolution among his rebel group that became known as the Sons of Liberty.
In 1773, when the establishment was known as Swallow's Tavern, the first Chamber of Commerce in America was formed on the site. The St. Andrew's Society and other fraternal organizations held their meetings and dinners at Shepheard's. During the Revolutionary period, the tavern was among those that hosted meetings of the Sons of Liberty.
On August 29, 1783, 43 Continental officers assembled at the tavern and formed the South Carolina Society of the Cincinnati. Maj. Gen. William Moultrie, hero of the battle of Fort Sullivan, was elected its first president. Their mission was to preserve the principles of liberty for which its founders had fought during the Revolution and to perpetuate those values through their descendants. This group is the only Southern society to have remained in continuous existence since its founding.
Edward McCrady wore many hats; he is listed as a barber, an inventor, a breeder and racer of horses, and owner of McCrady's Tavern, the only historic Charleston tavern that still exists as a dining establishment and is listed on the National Register of Historic Places. McCrady built this tavern with a separate kitchen to reduce the threat of fire c. 1779, offering meals, drinks and lodging. A four-story Georgian hous was built on East Bay Street. By 1788, McCrady had completed its "long room," which was used for banquets and theatrical performances.
McCrady, a devout Patriot, was captured by the British and sent to prison in St. Augustine, Fla., along with other leading Charleston Patriots. After the war, he returned to his home and business, which became the hub of social activity in Charleston in the years following the Revolution. Small wonder then that when President George Washington visited Charleston in 1791, McCrady's was the site of a magnificent 30-course banquet held in his honor by the Society of the Cinncinati – very appropriate given Edward McCrady's return to his old business a la old Cinncinatus himself, the consummate citizen-soldier.
The Pink House, 17 Chalmers St., served as a popular local tavern in the 1750s. It has variously been used as a brothel and lawyer's office, rounding out the more unsavory aspects of its history. In more recent times, the building, made of Bermuda stone with a tile roof, has been used as a residence, art gallery and office space.
American Patriot and tavern owner John Readhimer, who died in May 1826 at the ripe old age of 72, was not only known as a brave soldier, but as a gentleman, devout Christian, honest businessman, and true friend. He is buried in the St. James Goose Creek Chapel of Ease, not far from where he operated his tavern.
Historic maps found in Scotland and the Netherlands indicate that there was a Seafarer's Tavern here in 1686, which would make it the oldest liquor store in America
Robert Dillon's two story brick tavern stood in the middle of town. In the 1730's, it had doubled as a theater and a courthouse before other structures were built. He welcomed classical musical concerts, meetings of the elite jockey club, aid societies, and gentlemen needing a place to conduct business. The Charleston Library Society met there every Wednesday, and the Sons of Liberty were regulars. As one guest said, "There are very few there at any time but those who are playing Back Gammon." Governor Bull entertained gatherings there.
Benjamin Backhouse also hosted performances at his waterfront tavern, but they were not as refined as at Dillon's. Sailors, actors, party gentry, and the local Sons of Liberty were frequent guests. As well as back gammon, he offered ten public billiard tables. Gambling and competition were invitated. (Perhaps the games offered made a difference in the venue. Back Gammon is played between two players, and many were involved in billiards.)
At each location, the tavern community began with a friendly glass. Entertainment, business, or politics then followed suit.
One hundred years later, one of my favorite authors, Henry Wadsworth Longfellow, described an old tavern in The Wayside Inn.
"One Autumn night, in Sudbury town,
Across the meadows bare and brown,
The windows of the wayside inn
Gleamed red with fire-light through the leaves
Of woodbine, hanging from the eaves
Their crimson curtains rent and thin.
As ancient is this hostelry
As any in the land may be,
Built in the old Colonial day,
When men lived in a grander way,
With ampler hospitality;
A kind of old Hobgoblin Hall,
Now somewhat fallen to decay,
With weather-stains upon the wall,
And stairways worn, and crazy doors,
And creaking and uneven floors,
And chimneys huge, and tiled and tall.
A region of repose it seems,
A place of slumber and of dreams,
Remote among the wooded hills!
For there no noisy railway speeds,
Its torch-race scattering smoke and gleeds;
But noon and night, the panting teams
Stop under the great oaks, that throw
Tangles of light and shade below,
On roofs and doors and window-sills.
Across the road the barns display
Their lines of stalls, their mows of hay,
Through the wide doors the breezes blow,
The wattled cocks strut to and fro,
And, half effaced by rain and shine,
The Red Horse prances on the sign.
Round this old-fashioned, quaint abode
Deep silence reigned, save when a gust
Went rushing down the county road,
And skeletons of leaves, and dust,
A moment quickened by its breath,
Shuddered and danced their dance of death,
And through the ancient oaks o'erhead
Mysterious voices moaned and fled.
These are the tales those merry guests
Told to each other, well or ill;
Like summer birds that lift their crests
Above the borders of their nests
And twitter, and again are still.
These are the tales, or new or old,
In idle moments idly told;
Flowers of the field with petals thin,
Lilies that neither toil nor spin,
And tufts of wayside weeds and gorse
Hung in the parlor of the inn
Beneath the sign of the Red Horse.
Uprose the sun; and every guest,
Uprisen, was soon equipped and dressed
For journeying home and city-ward;
The old stage-coach was at the door,
With horses harnessed,long before
The sunshine reached the withered sward
Beneath the oaks, whose branches hoar
Murmured: "Farewell forevermore.
Where are they now? What lands and skies
Paint pictures in their friendly eyes?
What hope deludes, what promise cheers,
What pleasant voices fill their ears?
Two are beyond the salt sea waves,
And three already in their graves.
Perchance the living still may look
Into the pages of this book,
And see the days of long ago
Floating and fleeting to and fro,
As in the well-remembered brook
They saw the inverted landscape gleam,
And their own faces like a dream
Look up upon them from below."
Oh, to have sat in a corner and listen to Henry Laurens passionately speak against the Stamp Act or eavesdrop on the Charleston Library Society determine what next to read and "see the days of long ago."