A few years ago, I had a book signing at Latta Plantation in North Carolina near Charlotte.
This circa 1800 cotton plantation and living history farm is located within Latta Plantation Nature Preserve. The house is furnished for the 19th era, and the farm shows a possible kitchen garden, cotton fields, and animals of this time.
To learn more about the families that lived here, look at http://lattaplantation.org/latta/index.php?page=home. I believe you will want to visit.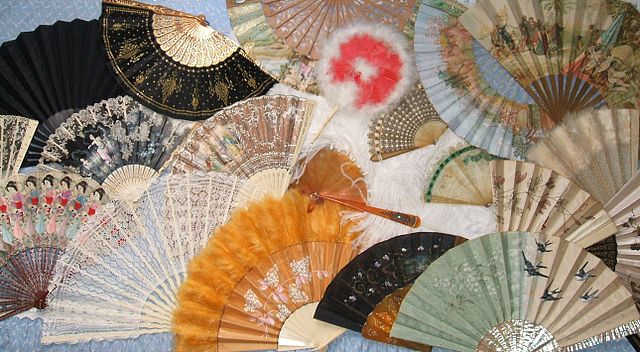 One of the docents shared the history of speaking with fans during those days, and it was fascinating. She was adept at modeling this unknown language, and the children in the room practiced with her. Here are some of the secret messages she shared.
The fan placed near the heart:  "You have won my love."
Resting the fan on the heart:  "My love for you is breaking my heart."                                  Letting the fan rest on the right cheek:  "Yes."
Letting the fan rest on the left cheek:  "No."
Fan held over left ear:  "I wish to get rid of you."
Covering the left ear with an open fan:  "Do not betray our secret."
Fan opened wide:  "Wait for me."
Touching the finger to the tip of the fan:  "I wish to speak with you."
Half-opened fan pressed to the lips:  "You may kiss me."
Putting the fan handle to the lips:  "Kiss me."
Resting the fan on her lips:  "I don't trust you."
Opening and closing the fan rapidly:  "You are cruel"
Quickly and impetuously closing the fan:  "I'm jealous."
Drawing the fan through the hand:  "I hate you!"
Fanning slowly:  "I am married."
Fanning quickly.  "I am engaged."
Hands clasped together holding an open fan:  "Forgive me."
Hiding the eyes behind an open fan:  "I love you."
Maybe the "secret" language of fans is really a matter of understanding and interpreting body language and gestures.  Just like a skilled poker player learns a person's "tells", so can an astute observer interpret another's use of the fan to discover underlying intent or emotion.
The fan became an ideal instrument of communication in an age in which freedom of speech for women was absolutely restricted. During the Victorian age, women were expected at all times to conduct themselves very discreetly in public; any direct communication of feelings or emotions between men and women was considered particularly undesirable. This made it extremely difficult for a woman to make her wishes known regarding the acceptability of a particular suitor. The language of the hand fan allowed for a woman to convey her desires and feelings to the prospective suitors without betraying the strict code of social etiquette.
Throughout history, fans have been made from a diverse range of materials. Some of the earliest Egyptian and Chinese fans were made of ostrich or peacock feathers.  Leaves of folding fans have been made of animal skins, vellum, paper, lace, silk and other textiles. The first printed fan dates to the 1720's. Tortoiseshell, ivory, bone, mother of pearl, metal and wood have all been used as guards and sticks.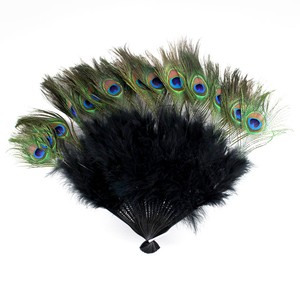 Hand fans have existed since antiquity with some of the earliest examples seen in ancient Egyptian artwork. Fans then kept flies off the Pharoahs, as well as keeping them cool. The folding hand fan originated in Japan and was introduced into Europe in the 16th century. Since its beginning, the hand fan has been more than a practical means of cooling a person down. In Asia, it assumed an important ceremonial role, and in Europe it became a signifier of status. Elaborate designs and expensive materials showing both taste and wealth.
As a child, I remember folding a sheet of paper to make a fan. It wasn't precise, but it worked for cooling. Children still make them and decorate them in schools in art classes.
Before the widespread adoption of air conditioning, hand fans played a major role in the comfort of the congregation in many churches, especially in small churches in the South. A simple paper fan could make a long service on a hot day in a small, crowded church bearable. In some rural areas, that's still the case today.
But religious hand fans are not just for cooling. Their relatively large size and light weight make them an excellent way to display art or information, such as religious art and/or the name of a local business. Many local businesses donate fans with their logo and marketing information on one side and a religious portrait on the other. In a visit to e Bay, you can find vintage fans of all prices.
One of my favorite fans is my shell fan made in Charleston. This fan is both pretty and elegant. It is the fan I fan with.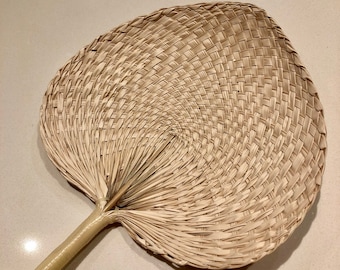 The art of sweet grass basket sewing is alive and thriving at the Charleston City Market, one of the oldest public markets in America. Made out of sweet grass by a talented woman, I bought one she completed while I watched. This "basket lady" continues a tradition of over 300 years; it is one of the nation's oldest and most beautiful handicrafts of African origin.
On this first day of fall, 2018, with the temps expected to be in the high 80's here in South Carolina, wondering how many of you still own and use hand fans?