702 Penarth Road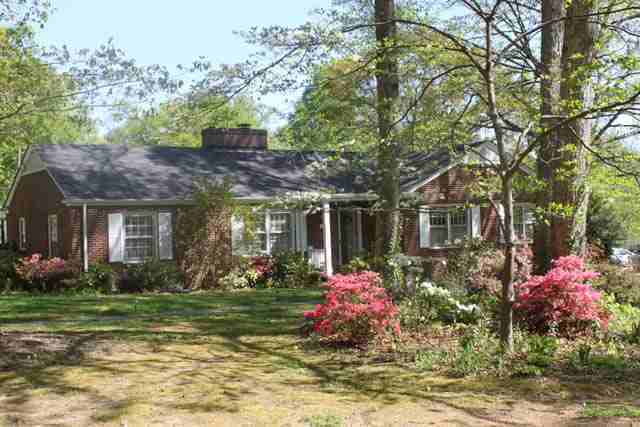 When I was five and my brother two, our great grandfather died. Leaving monies to his grandchildren, my dad invested in building a home on Penarth Road on the west side of Spartanburg. There are a couple of photos left of the house as it became a home. Critt and I played in the sand piles, and that was our contribution.
Our parents lived there for forty years.
Built on a one acre lot, the back yard became a playground for us and the neighborhood children. A swing set and sandbox were first. Tag, hide-and-seek, badminton, and croquet were next. Then a basketball goal. Soon it was a field for softball and football. Golf balls were lost there. We begged for a swimming pool, but it never happened.
In those years, there were few changes. Added first was a screen porch and an extended den. Then large windows created a sun porch that quickly became the favorite gathering place for our family. Our son Scott took his first steps on the porch.
Later my dad meticulously added a brick and sand terrace in between the driveway and the back storm door. Running string around the edges to design the space, leveling the ground with a shovel, arranging  the bricks in a simple pattern, and lastly pouring the sand to fill in the spaces were the steps.
My memories are of a banker, out of his element, dressed in shorts, collared shirt, socks and casual shoes down on his knees methodically occupied with his work. The suit and tie were out-of-sight. His glasses often slipped down his nose from the perspiration; I remember his skinned knees. His concentration showed when his tongue slipped between his lips. (This was a sign I always recognized.)
Through the years, the completed patio often brought smiles. Daddy was not dexterous, but he was determined to finish well all tasks that he started. He taught us this by example.
Whether it was washing the cars on Saturday afternoon, studying a Sunday School lesson at his desk on Saturday nights, or loving on Mother with her Alzheimer's disease, Daddy never quit. He took his responsibilities seriously.
Those azaleas harbored my reading nook. Behind them is a dogwood tree with a few low lying limbs. With a blanket in hand and perhaps a doll or two, I would head there for me-time. Bobbsy Twins, Hardy Boys, Little Women, Little House on the Prairie, Heidi, and Charlottes's Web are a few of the titles that come to mind. I tend to agree with C.S. Lewis that "You can never get a cup of tea large enough or a book long enough to suit me."
By the way, sixty years later that patio hugs the back entrance to our old home! Legacy does embrace countless forms.
An unknown author wrote this about a father.
What Is A Dad?
A dad is someone who
wants to catch you before you fall
but instead picks you up,
brushes you off,
and lets you try again.
A dad is someone who
wants to keep you from making mistakes
but instead lets you find your own way,
even though his heart breaks in silence
when you get hurt.
A dad is someone who
holds you when you cry,
scolds you when you break the rules,
shines with pride when you succeed,
and has faith in you even when you fail…
Thank you, Samuel Moore Collins. I was blessed to be your daughter. Often your actions spoke more loudly than your words.
As Max Lucado once said, "My father didn't do anything unusual. He only did what dads are supposed to do—be there."
You were always there, Daddy.