In 1783, President George Washington remarked, "The citizens of this country are, from this period, as the actors on a most conspicuous theater, which seems to be peculiarly designed by Providence for the display of human greatness and felicity."
And with his background of leadership in the founding of our country, he knew the men that he had worked and fought with.
We have the privilege of celebrating the anniversary of the signing of our Declaration of Independence this week. Twelve colonies had representatives who signed this document, and New York followed suit in August. It was after the first shots were fired at Lexington and Concord, in fact 442 days after these events in Massachusetts.
The signers were men of conviction who, by signing their names, put themselves, their families, and their land at major risk. Here are some facts that inspire me to remember them.
Eighteen of the signers were merchants or businessmen, 14 were farmers, and four were doctors. Forty-two signers had served in their colonial legislatures. Twenty-two were lawyers—although William Hooper of North Carolina was "disbarred" when he spoke out against the Crown–and nine were judges. Stephen Hopkins had been Governor of Rhode Island. Although two others had been clergy previously, John Witherspoon of New Jersey was the only active clergyman to attend–he wore his robes to the sessions. Almost all were Protestant Christians; Charles Carroll of Maryland was the only Roman Catholic signer.
Seven of the signers were educated at Harvard, four each at Yale and William & Mary, and three at Princeton. John Witherspoon was the president of Princeton and George Wythe was a professor at William & Mary, where his students included the author of the Declaration of Independence, Thomas Jefferson.
Seventeen of the signers served in the military during the American Revolution. Thomas Nelson was a colonel in the Second Virginia Regiment and then commanded Virginia military forces at the Battle of Yorktown. William Whipple served with the New Hampshire militia and was one of the commanding officers in the decisive Saratoga campaign. Oliver Wolcott led the Connecticut regiments sent for the defense of New York and commanded a brigade of militia that took part in the defeat of General Burgoyne. Caesar Rodney was a Major General in the Delaware militia  and John Hancock was the same in the Massachusetts militia.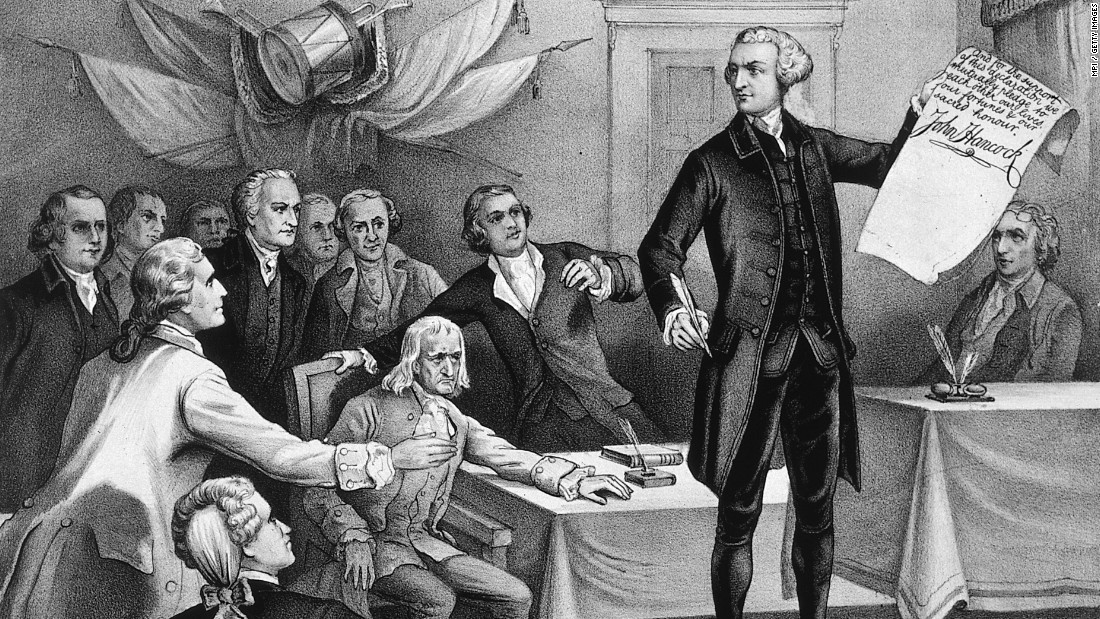 Five of the signers were captured by the British during the war. Captains Edward Rutledge, Thomas Heyward, and Arthur Middleton (South Carolina) were all captured at the Battle of Charleston in 1780; Colonel George Walton was wounded and captured at the Battle of Savannah. Richard Stockton of New Jersey never recovered from his incarceration at the hands of British Loyalists and died in 1781.
Colonel Thomas McKean of Delaware wrote John Adams that he was "hunted like a fox by the enemy–compelled to remove my family five times in a few months, and at last fixed them in a little log house on the banks of the Susquehanna . . . and they were soon obliged to move again on account of the incursions of the Indians."
Abraham Clark of New Jersey had two of his sons captured by the British during the war. The son of John Witherspoon, a major in the New Jersey Brigade, was killed at the Battle of Germantown.
Eleven signers had their homes and property destroyed. Francis Lewis's New York home was destroyed and his wife taken prisoner. John Hart's farm and mills were destroyed when the British invaded New Jersey and he died while fleeing capture. Carter Braxton and Thomas Nelson (both of Virginia) lent large sums of their personal fortunes to support the war effort, but were never repaid.
It sounds like it is time for a standing ovation of several minutes to honor these men, doesn't it?
Dr. Peter Marshall once said, "May we think of freedom, not as the right to do as we please, but as the opportunity to do what is right." I believe those signers took the opportunity to do what was right.
With leaders like this that we call the Founding Fathers, we have the privilege to sing "God Bless America," "America the Beautiful," "I'm a Yankee Doodle Dandy," and many others.
And it is a day to party, to celebrate the birthday of the country we call home, the United States of America!
My family had a regular menu for July 4th, and mine is always similar. It was always cold watermelon, barbeque, baked beans, potato salad, deviled eggs, and peach cobbler. Sometimes a churn of homemade ice cream was added, just because.
You probably have your favorite day all planned by now, too, by spending time with family and friends.
Happy birthday, America! Happy Fourth of July to all of you!
https://www.youtube.com/watch?v=Q65