On April 30, 1789, George Washington was inaugurated as our first President of the United States.
It took Mr. Washington seven entire days to get to New York from his home in Mount Vernon, because his procession was met every step of the way with throngs of patriotic crowds, celebrating him.
Arriving on a barge, he was met at the Wall Street pier by the mayor of New York James Duane and the state's governor George Clinton. From there, he was taken to his new home on Cherry Street.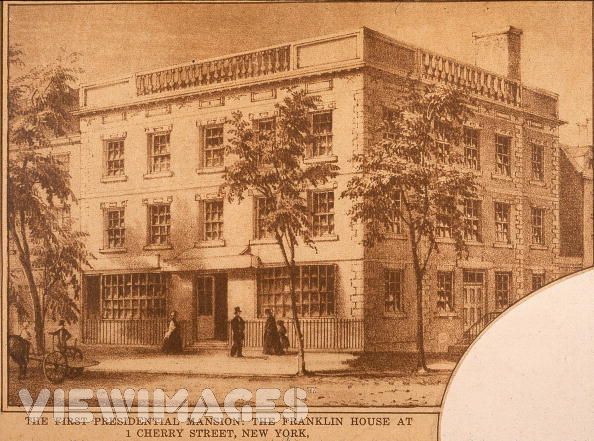 The white Colonial home, built in 1770, was surrounded by other sumptuous houses overlooking the East River. In fact, Washington's neighbor, at 5 Cherry Street, was John Hancock. In 1880, the neighborhood was torn down to make room for the Brooklyn Bridge anchorage.
He wrote in his journal on the day he left his home, "About 10 o'clock I bade adieu to Mount Vernon, to private life, and to domestic felicity, and with a mind oppressed with more anxious and painful sensations than I have words to express, set out for New York in company with Mr. Thompson, and Colonel Humphries, with the best dispositions to render service to my country in obedience to its call, but with less hope of answering its expectations."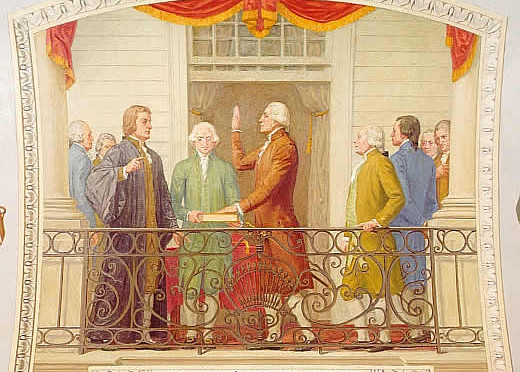 I am fascinated by quotes and wonder why they are both thought and then said. It is obvious that our first President was reluctant to leave his private life again to take up public life. His humbleness in taking over the leadership of America is apparent, as is his knowledge that this was a calling on his life.
Aware of the importance of this national ritual, Washington set many precedents during his first inauguration: the swearing-in took place outside; the oath was taken upon a Bible; an inaugural address was given (to the assembled Congress inside the Hall), and the contents of which set the pattern for all subsequent addresses. Celebrations accompanied the inauguration, including a church service, a parade, and fireworks.
President Washington saw his new position as one of service and responsibility.
General Morgan Lewis was Marshal of the day. His aid General Jacob Morton, Master at St. John's Masonic Lodge, brought the Bible and red cushion from the lodge. The Masonic Bible used for the ceremony is a copy printed in 1767 in London and features a large illustration of King George II.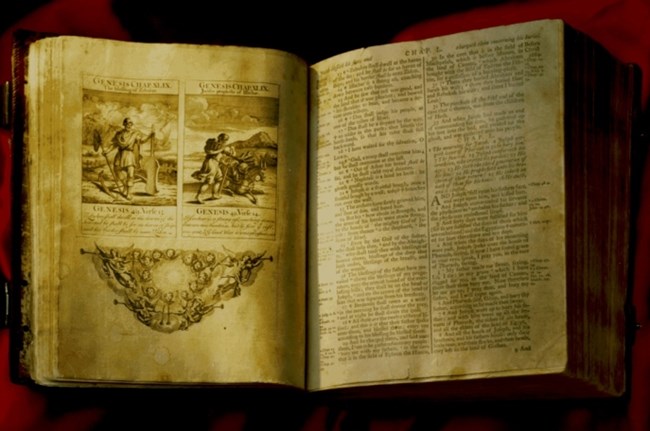 With his right hand on the Bible, Washington repeated the 35 word oath. Adding, "So help me God", and bent down to kiss the bible. Robert Livingston, who administered the oath, then shouted "It is done!" and "Long live George Washington, President of the United States!" to the crowd below. The raising of a flag signaled a discharge of artillery from the Battery, cheers and ringing of bells filled the city.
Then he went into the Senate Chamber in Federal Hall. Some of the phrases he used in his inaugural address were similar to his other writings. He spoke of his "own deficiencies," but also of his call to public duty when "summoned by my Country." He also spoke of the shared responsibility of the president and Congress to preserve "the sacred fire of liberty" and a republican form of government.
In the crowd in front of Federal Hall was the Count de Moustier, the French minister. He noted the solemn trust between Washington and the citizens who stood packed below him with uplifted faces. As he reported to his government, never had a "sovereign reigned more completely in the hearts of his subjects than did Washington in those of his fellow citizens…he has the soul, look and figure of a hero united in him."
Huzzah!